Our TOP-Links:
Casarabonela and the surrounding countryside are becoming increasingly popular, and therefore gaining more importance.
In spite of this constant demand, the area will never be allowed to develop into another Toremolinos, Marbella, or Cártama.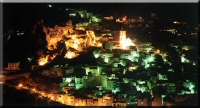 Foto: Casarabonela at night
Casarabonela - a Paradise on your doorstep
According to the travel magazine VIAJAR, January 1998 CASARABONELA is one of the 100 most beautiful villages in Spain. The village is located at the bottom of the hillside of the SIERRA DE LAS NIEVES and surrounded by the SIERRA ALCAPARAIN. The village with its prehistoric origin and roman influence has aprox. 2.800 inhabitants.
The National Park SIERRA DE LAS NIEVES constitutes one of the few eco- logical bastions of Andalucía, with a rich countryside and a variety of flora
and fauna that bring to mind the days of our ancestors in the history of Spain, the days of Moors and Moriscos and the times when bandits of old roamed and took refuge in these mountains. A trip into the SIERRA DE LAS NIEVES, declared a Nature Park in 1989 and proposed in 1993 as a Biosphere Reserve, means a visit to one of the richest natural enclaves in Spain.
The Parque Natural SIERRA DE LAS NIEVES covers an aera of 17.000 hectares. There are no villages inside the Parque but around it are Alozaina, Casarabonela, Guaro, Istán, Monda, Ojén, Tolox and Yunquera. The villages of the Parque SIERRA DE LAS NIEVES, like Casarabonela, offer beautiful, idyllic landscape and unforgettable panoramic views (over the valley GUADALHORCE up to the coast). The aromatic air of the extended pine woods, the variety of flora and fauna and the most pure andalusian original and ancestral habits but above all, the friendliness of their people are amongst the outstanding attractions of this area and subsequently convert the visit into an enjoyable adventure.
You can download the map ( pdf.file )
by clicking on the right mouse button.
Some attributes given to this area: MUSEO NATURAL · El MANTIAL DE LOS SULTANES · PARAISO NATURAL. CASARABONELA is also famous for its water. In the province of MÁLAGA there are seven bottling plants for mineral water - five are located in CASARABONELA.
Another natural park close by i.e. PARQUE DE ARDALES can be reached by car within 35 minutes. Inside the park there are lakes offering a wide range of leisure activities e.g. swimming in crystal clear water.
The ancient city of RONDA, a centre of rural tourism, is less than one hour away.
42 km ( aprox. 40 minutes by car ) to the international airport of MÁLAGA
45 km ( aprox. 55 minutes by car ) to MARBELLA